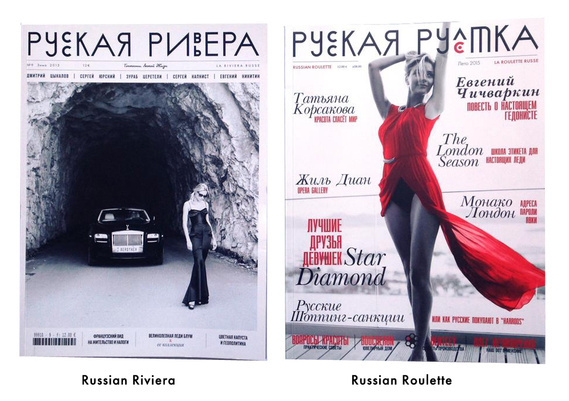 About the Russian Roulette magazine
21 July 2015
Regarding numerous inquires about our relationship to the magazine Russian Roulette, launched in 2015 by Erich Bonnet and Olga Mayr (London-based OMB Publishing) and distributed in France, as creators and associates of RR Editions, publisher of Russian Riviera, we have to state the following:
Russian Riviera has no legal or editorial relationship to the Russian Roulette magazine. Russian Roulette is not the continuation of Russian Riviera or its replacement. OMB Publishing has no legal rights to reproduce Russian Riviera in any form. All resemblance in logo, design and editorial content between the two magazines may violate copyright laws and constitute an act of counterfeiting.
Although Olga Mayr briefly collaborated with Russian Riviera, she never was its publisher, editor or owner (despite the rumors that circulate).
Anton Koslov Mayr, Guela Patiachvili, Natalia Garilskaya
Shareholders, RR Editions
Sur la revue La Roulette russe

Suite aux nombreuses questions concernant la nouvelle revue La Roulette russe qui est apparu récemment en France, publiée par Erich Bonnet et Olga Mayr (OMB Publishing) à Londres, en tant que créateurs et associés de RR Editions, éditeur de La Riviera russe, nous voulons dire le suivant :
La revue La Roulette russe, n'a rien avoir avec la revue La Riviera russe. Ce n'est pas ni la continuation de La Riviera russe, ni son héritier légal, malgré la ressemblance de logo et de la maquette de deux revues. Cette ressemblance, ainsi que les possible violations du droit de la propriété intellectuelle sont référées à nos conseils juridiques.
M-me Olga Mayr collaborait avec « La Riviera russe » pendant quelques mois, entre novembre 2014 et avril 2015, mais elle n'a jamais été ni le rédacteur-en-chef, ni l'éditeur de « La Riviera russe », ni son propriétaire.
Anton Koslov Mayr, Guela Patiachvili, Natalia Garilskaya
Associées, RR Editions